At St Matthew's Parish Church we are committed to maintaining the highest of standards and to provide the highest level of professionalism in all aspects of your families interment requirements.
The Marchant Church Columbarium wall is a final resting place for Parishioners and the local community welcoming all faith's that has been designed to provide a natural environment within the Irishtown, Ringsend and Sandymount area. You will notice the historic setting that provides an offering of peace and tranquillity and an opportunity of reflection.
Our Parish website will also provide a dedicated family page to upload comments and condolences and to offer their memories of their love ones.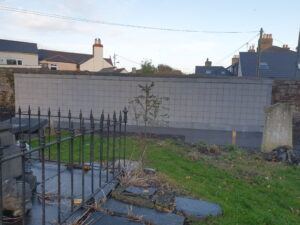 Our Parish Administration is on hand to assist with all aspects of pre-planning interment requirements, ensuring peace of mind for those left behind.
If you would like to enquire about reserving niche(s) in the Columbarium Wall please contact the Parish office on 087 254 0378 or email Jonathan Bell at jonathanbell61@gmail.com